I'm jumping on board with The How to Mommy for week two of her Meal Planning Monday series.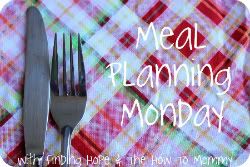 Although we got slightly ::insert sarcasm:: off schedule last week...I'm going to try to be accountable again ::sigh:: This week is a bit different, as we're traveling at the end of the week. It's my spring break, Thank the good Lord, so we're headed to the coast for a little relaxation! I can't wait!! Is it Friday yet? With that being said, I have a lot less days of meals to plan. But, I'm going to come play, anyway.
Monday
Salad
Tuesday
Pizza Night (soccer)
Wednesday
Apple slices or Mandarin oranges
Thursday
Grilled Cheese & Tomato Soup (packing day & Buckeyes game)
Friday
Chick-fil-a (on the road for spring break!!)
I'll take a #1 on a wheat bun with fruit and a Diet DP, please :)
Saturday
Red Potatoes
Apple Sauce
Sunday
Seafood! The perks of spring break on the coast!
Happy Monday, all! Stop by later for an overview of our weekend. 
Linking two of my favorite recipe sites, too...