If you're a new reader,
welcome to my little blog-that-could
! Hope you'll become a regular follower. My blog started as a love-letter to my son, a virtual baby book of sorts. As I've become more involved in the blog-o-sphere, and its network of amazing moms and dads, it's taken on a life of its own. I very much enjoy participating in the bloggy world. I promise you a dose of humor, some brutal honesty and lots of pictures of my cute blondies:) I'm just a humble Midwestern mommy, trying to wade through the world of motherhood. I have an unhealthy obsession with shoes, running, science, teaching today's challenging youth, reality tv and my family. I suffer from road-rage (blame it on my hometown of Chicago), an addiction to endorphins, and a severe case of type-A OCD. Glad you're here!
I've been fortunate enough to have the opportunity to guest post on a great blog
Its a Vol
. I thank Sarah for the opportunity. Go read my post about my fears in mothering two
very different
kids, give me some comment love, and stay and read more of Sarah's journey! Her daughter Evie is just the cutest! You'll love her blog! I know I do :)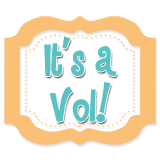 We have a BIG WEEKEND planned! T turns 5 on Monday, yes...5! I can't believe it myself! His big superhero birthday party is this afternoon. I will post pictures and give you the run-down later. This is my first party where I relinquished control...and it's scary for me (type A as I am). We're having his fete at an alternate location, and paying (gasp) someone else to host it. I'm trying to be okay with it, but I have to be honest I feel pretty guilty and out-of-control. Hopefully it goes smoothly. ::deep breath:: The other big event is the baptism of both of my kids...finally. It's taken us a long time to find a church to call home, but we're eager to get involved and give T & B the gift of baptism.
Click on it's a vol to read my guest post, and check back here later for updates on our big events. Happy Weekend! :)

Don't Forget to Vote Daily!